DataThon by Data-For-Good
Hi …. you're invited to participate in the first DataThon hosted by Data for Good.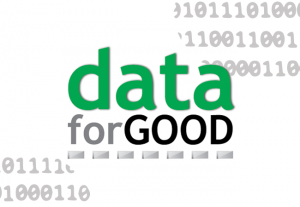 This will be a fun and inspiring event where you can put your data skills to work for social good. Come and help Sustainable Alberta Association get the most out of the data they have been collecting from their annual Commuter Challenge. Analysis and visualization of the data will help to influence policy at the municipal level, prove that Commuter Challenge influences change among participants and determine interesting trends/patterns/insights that can be shared with the media to increase exposure and promote sustainable transportation options. We need people with skills sets across the entire data lifecycle and all experience levels. We will be working on a wide variety of opportunities including;
Data analytics / KPI's / Dashboards
Data visualization / Mapping / Spatial analysis
Database schema analysis & refactoring
Website development and data integration
Mobile App development
Please RSVP with Data-For-Good and you must also REGISTER here for the DataThon so we can track the number of participants. We hope you can join us and help to make this DataThon a great success. Geoff Zakaib, P.Eng., MBA P.S. Please forward this email to all of your contacts that may also be interested in the DataThon.
INVITATION TO ANALYZE – EXPLORE – LEARN
DataThon hosted by Data for Good – Calgary and working with Sustainable Alberta Association (Commuter Challenge) Are you a data scientist / data analyst who loves to explore data and wants to do some good for the community? Then join us for the first DataThon hosted by Data for Good – Calgary. We are excited to announce that we will be working with Sustainable Alberta Association and data from their Commuter Challenge! Bring your data skills and get ready to dive into fascinating datasets about commuters and sustainable forms of transportation.
Calling all Volunteers to Meet and Review Data Tools and Task prior to the DataThon
Date: Tues, 29 Apr at 7:00 PM,
Place: Raven Bay Services, 607 10th Avenue SW, Calgary, AB.
1.) Let us know you're coming on our Meetup page http://www.meetup.com/Data-for-Good-Calgary/events/178564472/
DataThon 2014
Date: Fri, 9 May at 7:00 PM to Sun, 11 May at 12:00 PM,
Place: 5th floor, ICT building, University of Calgary, 856 Campus Place NW Calgary, AB (MDT)
1.) Registration for DataThon with Eventbrite (so we have enough food) http://www.eventbrite.ca/e/datathon-hosted-by-data-for-good-calgary-tickets-10913888735
2.) Let us know you're coming on our Meetup page http://www.meetup.com/Data-for-Good-Calgary/events/175671942/
Below is an outline of the schedule for the weekend with specific details included for each day.
Schedule:
Opening Mixer:
Friday, May 9th
7:00 PM: Doors open
7:30 PM: Presentation from SAA Commuter Challenge
8:30 PM: Networking social, snacks and drinks
The evening will involve a presentation from Commuter Challenge. This will be followed immediately by a social to give all of the participants a chance to meet each other and begin discussing projects with the Sustainable Alberta Association representatives.
The DataThon:
Saturday, May 10th
8:00 AM: Doors open, sign-in and breakfast
9:00 AM: Brief review from Data Ambassadors, begin data diving!
12:00 PM: Lunch
6:00 PM: Dinner
11:59 PM: Everyone goes home for the night (or not)
Saturday we'll get to the data! DataThoners will choose / form teams that they would like to work with. Data Ambassadors will help advise on and manage the projects throughout the day. We'll have meals and keep the space open until 12AM for any late-night data divers.
Final Presentations:
Sunday, May 11th
9:00 AM: Doors open, breakfast
10:30 AM: Presentation from teams
12:00 PM: It is a wrap; a successful DataThon in the books!
This is your chance to show what you have done with the data! There is no expectation of slides or other presentation materials, simply use whatever method of conveying your work you feel is best.
About Data for Good – Calgary:
http://www.meetup.com/Data-for-Good-Calgary/ Data for Good brings together leading data scientists / analysts with high impact social organizations through a comprehensive, collaborative approach that leads to shared insights, greater understanding, and positive action through « data in the service of humanity ». Data for Good leads a community of pioneering data scientists / analysts with the talent, commitment, and energy to open doors & inspire a new way of using the skills and tools of corporations & governments, to meet the needs of the NFP/NGO and social innovation sector.